Organic Makeup, Green Costmetics,
Organic Gifts for Women &
Gifts for Teens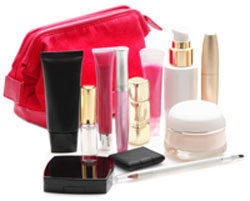 Our Promise
Our site unveils honest Organic Makeup and Green Cosmetics to ensure you, the consumer, are purchasing truly healthy gifts for you, your friends and loved ones. Simple gifts that are clean and products that uphold the "Coming Clean Campaign"...Campaigning for Organic Integrity in Body Care Products. This movement was developed to eliminate labeling fraud in organic body care products, including organic makeup.
Why? The FDA does not regulate ingredients used in cosmetics. Hence, Cosmetic/body care companies are utilizing the word "organic" on their products. NOTE, these products are NOT certified organic or certified natural and there is nothing organic/ natural about them! For this reason, the Coming Clean Campaign was developed to point out the "organic cheater brands" as well as the hazardous ingredients found in those body care products/cosmetics. They inform the buyer to beware while urging consumers to boycott the deceptive brands.
Remember...what you place on your skin is just as important as to what you eat.
So, whichever cosmetic or body care product you use, those ingredients, beneficial or not still reach into your bloodstream within six seconds. In fact, our skin, being our largest organ, soaks in as much as 60 percent of everything we put on it.
If you are truly concerned about your health and your skin, step aboard and boycott the conventional chemical laden products that bear no benefits to you or the environment. I mean...Do we, as consumers, desire lipstick that contains lead or various makeup products that have the ability to cause skin cancer? No! Take a stand...We need to begin supporting companies who are passionate in creating
safe makeup!
How? Throw out the unsafe makeup and replace it with truly organic and certified natural products. Although this can be costly, we propose consumers begin by replacing the product most used in your cosmetic bag while swapping out the least used items a little at a time.
What to Do?
To be protected, read the ingredients. Always understand what is in your product...
Are the ingredients safe? To be absolutely certain, we recommend that you purchase cosmetics that display the USDA Organic Seal...This seal guarantees that the product is produced without the use of pesticides and artificial fertilizers. More importantly it assures the product does not contain any synthetic ingredients/ chemicals. Simply stated...if it doesn't have the the Organic Seal, then ignore the marketing claims, ignore the celebrity endorsements and Look at the Label to find whether the makeup or body product is free of the "unwanted bad stuff". Tip...Try to purchase products that contain fewer ingredients and steer clear of products comprised of nanoparticles. Must read the possible dangers of nanotechnology within cosmetics and body care products.
Don't be Surprised...Labels can be Misleading!
That is right...Makeup/Body products labeled today are not always what they appear
to be. Unfortunately, consumers need to explore and research exactly what substances are compounded to formulate the cosmetics they use daily. Therefore, before you make a decision on your next cosmetic purchase, browse through our index of Body Care Ingredients to Avoid. However, if time is an issue, we have streamlined the process...View our favorite Organic Makeup selections! Be patient, keep scrolling...We do our best to invoke fabulous Organic Makeup gifts and ideas for any woman or teen.
Other Choices
If Organic Makeup or Natural Make Up is not practical for you, take a peek at other beauty alternatives. And, keep in mind beauty is not just skin deep! In fact, what you eat also effects your skin...here is a list of healthy food for skin.
Today, we believe that Healthy Cosmetics is the only way to go if you desire to find clean, green gift ideas. And don't agonize...The Organic Natural Gift Guide is simplifying your shopping for Organic Makeup, Green Makeup and Healthy Gifts by providing you with clean picks of Green Lipstick, Organic Lipstick, Organic Lip Gloss, Organic Mineral Makeup, Organic Foundation, Organic Eye Shadow, Organic Nail Polish, and other Vegan Gifts. Check out our recommendations of Organic Gifts and Green Gifts. We include gift ideas for mom, unique gifts for women and even birthday gifts for teens...whatever the occasion, your giftee will adore makeup that is clean. Make it special...make your gift a healthy one!


---
Coming Soon Our Selections for Organic Makeup & Green Makeup!
---
Return from Organic Makeup to Organic Natural Gift Guide, Home