Healthy Organic Chocolate & Other
Unique Healthy Candy Gift Ideas!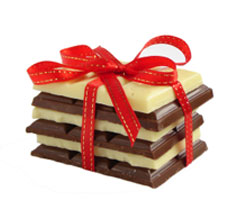 Healthy Organic Chocolate Anyone?
Mmmmm...I love chocolate and in today's world, chocolate actually holds health benefits. A single chocolate bar contains as much antioxidants as a glass of red wine or green tea. These antioxidants are believed to aid our body's cells...resisting damage caused by free radicals. In other words, it helps resist damage to what we breath into our bodies, such as pollutions.
Flavonoids, (polyphenols) contained in chocolate are known to aid the immune system, promote cardiovascular health and reduce the risk of cancer. Chocolate also contains tryptophan which boosts serotonin and endorphin levels...making us feel good. However, the more chocolate is processed by fermentation, roasting and alkalizing, the greater chance these powerful polyphenols are lost. So, before you seize any chocolate bar, let's decide what form or kinds of chocolate are better than others...I mean, not all chocolate is created equal.
Raw Chocolate
In it's raw, non-heated state, cacao contains over 300 nutritional compounds. It is high in antioxidants, magnesium and rich in essential minerals. Cacao's main stimulant, therobromine, the primary alkaloid, helps bring energy, focus and mental clarity.
Dark Chocolate
Although the cacao is heated, dark chocolate retains higher levels of flavoniods than milk chocolate. Believe it or not, early chocolate making processes destroyed up to half the flavonoids found in dark chocolate. Today chocolate companies have learned new methods thus keeping up to 95% of these powerful flavonoids! What a great change! And...Organic Dark chocolate contains less sugar than milk chocolate.
So which Chocolates are Best?
I would say Raw Chocolate, Dark Chocolate and then Milk Chocolate. AHH...But which chocolates taste best? Well...the decision was unanimous! Scope our favorite reviews.
Through the following links you will find many choices of Healthy Organic Chocolate and Unique Chocolate Gifts for those who love chocolate. We elect Organic Dark Chocolate and Natural Chocolates because we prefer to avoid toxic chemicals and artificial stuff...giving all those cacao lovers more reason to reach for the chocolate when they crave it. Plus organic chocolate is better for the environment.
Remember, we want you to to feel good about the gifts you give. So, soothe your receivers soul by gifting the extreme comfort food...Yummy, Organic Healthy Candy, Organic Chocolate Bars, Fair Trade Chocolate and/or Healthy Organic Chocolate gifts!
Search now! We have fantastic Green Gifts, Family Gift Ideas, Gifts for Xmas, Graduation Gift Ideas, Best Friend Gift Ideas and Last Minute Gift Ideas. Whatever the occasion, people love chocolate!


---
Our Top Healthy Organic Chocolate Gift Ideas Coming Soon!
---
Return from Healthy Organic Chocolate to Organic Natural Gift Guide, Home Page