Green Art Supplies
Organic Gifts and Green Gift Ideas

Welcome to Green Art Supplies and Accessories!
Kids and Teens love creating...I remember when I was a child, I was continually working on numerous art projects. Every holiday or special occasion, I would diligently strive to complete the gift I was preparing. In fact, my sister continually reminds me of those past years when I always seemed to be frantically wrapping my present while my family began the celebration. And yes I am still consumed with self proclaimed assignments.
Today, we have combined our efforts to display clean, green art supplies and green crafts gifts for you and your little ones. You can rest easy and breathe a sigh of relief...these green gifts possess no harmful ingredients. Therefore, you can enjoy while your children engage in their creations.
We have hand selected all these gift ideas pertaining to eco-friendly, green crafts. So what do you purchase? Just take a peek at our green gift choices. We have what we consider to be the Top Collection of Green Art Supplies...Helping you choose wonderful green gifts for children and teens!
Need green Christmas gifts? Freely browse our favorite stocking stuffers for teens and kids. All these green crafts make wonderful gifts for all occasions.
Don't forget...Tell us what you think and give us your opinions. Do you have a green product we don't know about? Contact us.
Organic Natural Gift Guide's Green Art Supplies Collection
Eco-Friendly Paints
Just as the cosmetic/body care industry...don't be fooled by the labels. Did you know that paints used and labeled for arts and crafts are completely exempt from the lead laws? Most of these specific paints/pigments contain lead, formaldehyde, and cadmium. And that is not all...they also may be classified as non-toxic. Why? If the synthetic color in question has never been tested for toxicity, and no other information or analysis exist proving not, the product can be labeled non-toxic. How crazy is that! Unfortunately we need to beware of paints that display the certified non-toxic label...not only can they be detrimental to our children and ourselves they may affect our environment and the wildlife. Therefore, read the labels...make sure they are safe.
Presented here is our listing of what we consider safe paints.



Clementine Art Natural Paint
: A set of six colored paints (1.7 oz) free from dyes and petrochemicals. Enjoy! Recommend ages 3+.

Eco Kids Eco-Paint
: Non-toxic, safe paint made with flour, cornstarch, wheat paste, earth clay, etc. This company, started by a nanny, also provides sidewalk chalk, dough and paste.

Glob Paint Color
: Natural, non-toxic, eco-friendly, biodegradable and sustainable. This six pack natural botanical art paint is made of food grade ingredients including fruits, vegetables, spices, flowers and organic extracts. Don't desire to mix your own...see Glob Easy Shake Jars (Four 2 oz jars)
four 2 oz jars.
Real Milk Paints: These paints are versatile and easy to use on furniture, bricks, wood, stones, murals and more. Milk paints are available in many colors and are non-toxic and environmentally friendly. And no VOC's (volatile organic compounds).
Eco Crayons
Beeswax Crayons-Non-Toxic, velvety smooth, brilliant colors, pleasant smelling and suited for children and adults of any age.

Stockmar Wax Crayons
: Great gift, set of 12 in cardboard box. Picture shows set of twelve.

Stockmar Beeswax Block Crayons
: Shaped like blocks and easy for children to hold. Either set consists of 8 or 16 crayon blocks. Certified non-toxic. Can't decide then see the Stockmar Block/Stick Beeswax Crayons
This is a set of 16 block and stick crayons snuggled in a lovely tin box.

Lyra Aquacolor Water-Soluble Wax Crayons
These are water soluble wax crayons. Smooth, creamy, brilliant colors. Blend easily into many wonderful colors. Set of twelve in a box.
Lyra Wax-o-Glas: Check out these cool window art crayons...easily removed from any glass surface! Set of ten.
Soy Crayons
Made with Soy which is better than the petrolium based crayons. These crayons seem to appear a little softer in color on paper than the beeswax crayons. Exhibited below are different types we found useful.

Crayon Rocks
The sizes and shapes of these rocks are easy to hold for children. Sixteen colors all together in cotton muslim bag.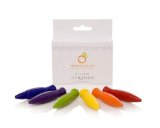 Clementine Art Natural Crayons
Six color pack of chemical free, dye free and additive free crayons. Soap and water clean up. Not for children under 3.


Eco Markers: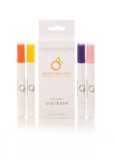 Non-toxic, quick drying markers made with natural plant and mineral pigments. Created without the use of petroleum and synthetic chemicals...No need to worry when your children are handling these. Set of four.
Clementine Art Natural Markers

Eco colored pencils
Eco-Tree Colored Pencils are crafted from real tree branches! These eco-friendly pencils come from sustainable Tamarind Trees. Cool picks for kids of any age.
More Green Art Supplies to Come...Sorry for the delay!
Return from Green Art Supplies to Green Toys and Crafts
Return from Green Art supplies to Organic Natural Gift Guide, home